Hello! I know, I know. No dinner post last night. That's mainly because I didn't eat dinner. I had a bunch of errands to run and by the time I got home it was too late.
For breakfast today, I had a PJ's Organics breakfast burrito. I tried to find a picture online, but I couldn't find one. It has eggs, turkey sausage and potatoes in it. I like it a lot more than the Amy's burritos I've had because the tortilla stays soft and it has more flavor.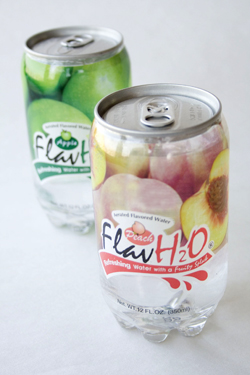 Another item I've recently fallen in love with is
FlavH

20
. Normally, I hate flavored water, but this is different. It's similar in taste to a soda, but has about half the calories. So far the only place I've found them is at 7-eleven. But, you can buy them on
Amazon
. A little pricey at about $1.50 a piece, but a good alternative to soda.
Lunch today consists of a
Morningstar
Prime
Griller
"burger" on a whole wheat Arnold's Sandwich Thin. I didn't bring any condiments so I'll probably put some Taco Bell sauce on it that I found in my desk.
LOL
:) I had a picture but my phone messed it up and by the time I realized I had eaten it all.
On the side is some watermelon, cantaloupe, strawberries, and cottage cheese that I got at the salad bar yesterday, but was too full to eat.
Yay

! for a great balance of healthy and skinny, today.
On the exercise side of things, yesterday I started the
Couch-to-5k program
. Let me tell you I am sore today. Legs (obviously) and abs mostly. I have a friend who wants me to do a 5K at the end of August with her. While I'm not sure I'm going to do that one (running in August?) I would
like to do the Susan G.
Komen
one in October. My biggest challenge will be getting up early enough to do some of the training outside before it gets hot. Otherwise, I'll be doing it on the indoor track or treadmill and that really doesn't prepare you for running outside in my experience.
Also, I got an e-mail from my trainer and hopefully we'll be able to get something set up so we can get started next week. :)
Today I'm going to do a 20/20 (twenty minutes
cardio
, twenty minutes strength) class and tomorrow it will be couch to 5k again.